WHO Recommended Hand Rub Formulation for effective Hand Sanitisation.
BLT are holders of the Derogation license to manufacture the WHO Recommended Hand Rub Formulation.
We also offer IPA Hard Surface Sterilising sprays and Impregnated IPA wipes for Sanitisation. Visor Shields and Face Masks for Personal Protection.
Please click here or contact us for further details.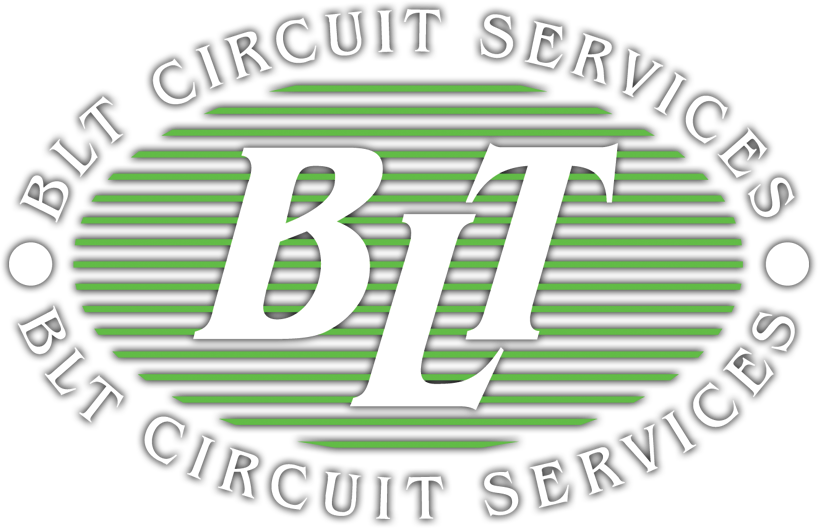 BLT is the leading manufacturer and distributor for a comprehensive range of consumable products for cost efficient, high reliability circuit assembly. Established in 1989 and experts in soldering technologies, we have grown rapidly in our home market and across the World supported by our Technical Team.
We specialise in selling a solution to your needs.
WHO Recommended Hand Rub Sanitiser
Hand Rub Sanitiser – 75% Isopropanol Alcohol – Full HSE Derogation Licence BPR Article 55 for Propan-2-ol Hand Sanitisers.
We don't sell gel of less than 75% alcohol because these are not deemed effective by the WHO.
Available in 10Ltr Containers
Drum taps & 100ml bottles also available if required
SOLDERING PRODUCTS FOR CIRCUIT ASSEMBLY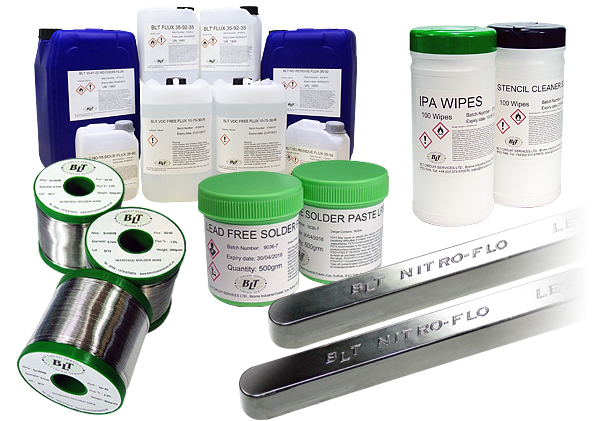 Nitrogen Cast Solder Bar, Tape, Coatings, Ancillary
De-soldering Braid

Temporary Soldermasks

Conformal Coatings

Dross Oil

Lead Testing for RoHS Compliance
Solder Pastes, Stencil Cleaners & Wipes
Stencil & Misprint Cleaning Systems
Solder Wires
Flux Pens and Re-work Paste
Dross Recovery
Lead Check Swabs
Brochure
PRODUCTS FOR PCB MANUFACTURING
Kolon Dry Film Resists
Kolon dry film resists for PCB manufacturing and chemical milling. PK1500 and PK1600 are available in 30, 40 and 50 micron thicknesses.
Excellent adhesion and chemical resistance

Rapid developing with minimal foam generation

Strips rapidly producing small filterable particles

Competitive pricing
Copper Cleaners and Micro Etch
Copperwet 1120 – Pre plate cleaner
Copperwet 1130 – Combined degreaser and mild micro etch for prior to HAL
Copperwet 1150 – Non foaming, non etching spray cleaner, no attack on Stainless Steel
Copperwet 1170 – Micro etch prior to plating
Copperwet 1174 – Micro Etch prior to silver
Copperwet 1195 – Post graphite microetch
Glibrite GB-4300R40 – Surface roughener for optimum adhesion of dry film and photoimagable resists
Copper and Tin Plating
CU90H – Acid copper for complex circuits with blind or micro-vias
CU400 – High speed, 1:1 surface to hole-wall copper distribution, bright, ductile copper
SN800 – Reliable, easy to control Sulphuric Acid based Tin Plating Solution
Plating Jigs – Plastic coated copper cored stainless steel jigs manufactured to customer dimensions. Full refurbishment service also available
Resist strippers, Developers and Antifoams
Aquastrip 1310 – Low cost Potassium Hydroxide based stripper for high volume circuit production or chemical milling
Aquastrip 1320 – Highly effective on overplated boards
Aquastrip 1330, 1335 and 1340 – Organic strippers with no effect on Tin Plating. Resist strips in filterable particles for volume production
Developer 1648 – Concentrated developer for use in spray equipment, suitable for all aqueous dry films and photoimagable inks
Antifoam 200NS – Highly concentrated antifoam for water treatment and stripping solutions
Antifoam 700NS – For developer and stripper. Low residue
Antifoam 800NS – Latest generation for developer and stripper
Tin Strippers
Tin Stripper 1532 and 1535 – Spray, Nitric Acid based products for volume production with minimal attack on copper
Tin Stripper 1542 – Immersion stripper with NO copper attack even when fully loaded
HAL Fluxes and Solder
1295EM – Suitable for Tin / Lead and Lead Free Solder
1298SD – Latest generation flux producing bright, level deposits with no solder pick up
SN100SB – Lead Free Solder producing bright, solderable deposits. Full customer analysis service is available using Spark Erosion equipment as well as dross collection

Solderable Finishes
IAG 377M Silver – Unique, alkaline immersion silver, producing bright, easily soldered tarnish resistant deposits. 6 month shelf life. Preclean Copperwet 1120, Microetch 1174, Predip PX313, Silver 377M, Antitarnish ANT 39.
Glicoat SMD F2 (2X)
Organic solderable coating for volume production. Produces a uniform, very thin coating by reacting with copper only.
Screen Printing Inks and Ancillary Products
BLT distribute the competitive range of Sun Chemical photoimagable and screen printable inks.
Stencil preparation chemicals

Direct and Indirect Stencil Films

Squeegees

Screen washes
Tapes and Filters
Tapes – 9180 Gold Plating Tape, Splashback Tape, Red Litho Tape and CM8R Hot Air Levelling Tape.
Polypropylene, wound filters for general use 10", 20" and 30" in 0.5 to 100 micron pore sizes.
Plastic Fabrication
BLT manufacture complete, bespoke plating lines, cleaning lines, water treatment plants plus a range of Etch, Developer and pH controllers.
Brochure
WATER TREATMENT
Water Treatment Chemicals
ANF 30 Anionic Flocculant – for use prior to settlement
M25 Cationic Flocculant – for use with MP15 metal precipitant
MP15 – Highly effective complex breaking chemical to remove copper from waste streams
Filters
Aro Band Filters and Paper Rolls

Filter Paper

Cartridge Filters

Polypropylene Filter Cartridges

Filter Heads and Bags

Polypropylene Bags (to fit 178mm filter head)
pH Control and Effluent Treatment
Retec Cells and Copper Recovery
Retec Cells

Spare Parts

Chemical Precipitation
Water De-ionisers and Reverse Osmosis
Water De-ionisers

Reverse Osmosis
BLT Circuit Services Ltd
Brome Industrial Estate
Brome
Eye
Suffolk
IP23 7HN
+44(0)1379 870870