Solder Pallet Refurbishment
Rejuvenate your existing Wave Solder Composite pallets with the NEW BLT Solder Pallet cleaning and re coating service.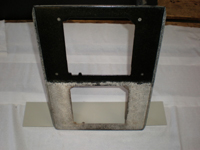 The Service includes Semi Aqueos Clean of complete Pallet followed by baked drying procedure to make ready for Resin Application. Pallet is sanded if necessary to remove all loose fibres and then sent for further cleaning operation. Once cleaned and dried the solder side of the pallet is put through our Resin Application process to ensure a smooth amount is applied. Then the whole pallet is put through a baking process for 8 hours to harden of the Epoxy resin process. Once finished the solder pallets will have an even coating of resin which will withstand temperatures of up to 300 degrees Centigrade.
By refurbishing and recoating Solder Pallets you also ensure minimal solder dross production occurs and also improves solderability and cleanliness of your PCB Assemblies. The rate of bridging and skips improve as no sticky epoxy is allowed to wash into the solder wave.
All pallets when they are processed thermally degrade, this degradation deposits residues into the solder bath resembling a brown liquid tar. This causes the solder to turn into a thick silver spongy dross. The residues is also washed over the PCB causing a hard film or droplets to occur which can also fail ICT Test, which is commonly blamed on flux residue.
Our Laboratory is equipped for free of charge Solder analysis for our solder customers using Spark Erosion CCD, X-Ray analysis for our Solder Paste customers, Microscopes for Visual analysis and FTIR for Chemical Analysis.
For further information please contact us.